I don't think I ever started a thread for this thing. This was the first two seater I think I ever saw in person, definitely the first one I ever went for a ride in, sometime around 1999? It belonged to a mate of mine and was certified for an L20ET which broke, he ended up buying another one that was pretty mint so decided to sell this one, I basically got it as a rolling body. There was also another 2+2 which has come and gone in the mean time. This car is a little bit odd - it has factory option blacked out chrome which I haven't seen on another car in NZ.
This first photo is from back in the day, that's my second 2+2 in the back ground.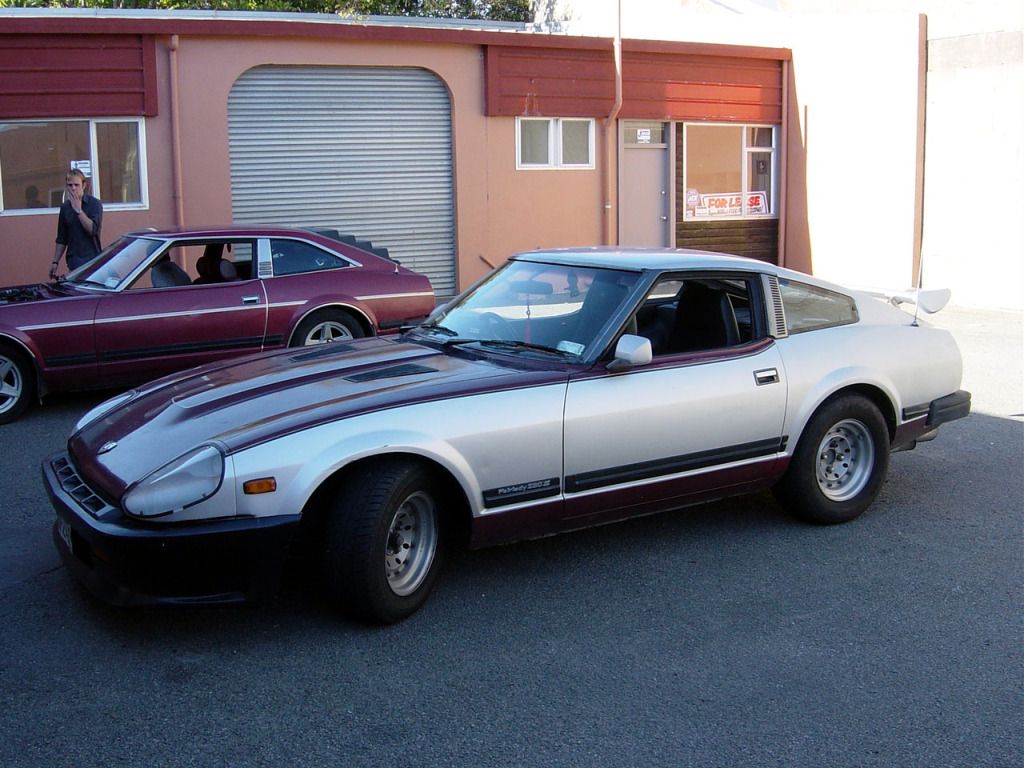 I've had a few thoughts about what to do with this but then this happened:
Saw a guy wrecking a crashed Cima on Trademe so I asked him about the engine, he didn't want much for it but it's got a couple of broken bits on it, decided to buy it and got the auto bell housing as well. It's a VK45DE, I don't really need it right now as this is going to be the last car that actually gets worked on but it was too good a deal to pass up (I think). Got it home and can't actually put it in the engine frame because the bell housing to engine bolts are huge, M14x1.5.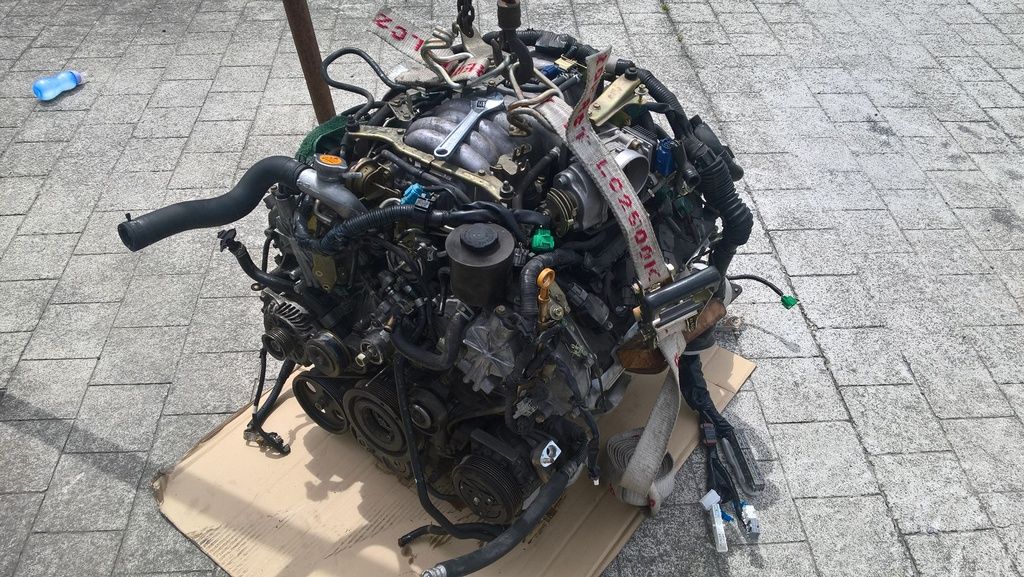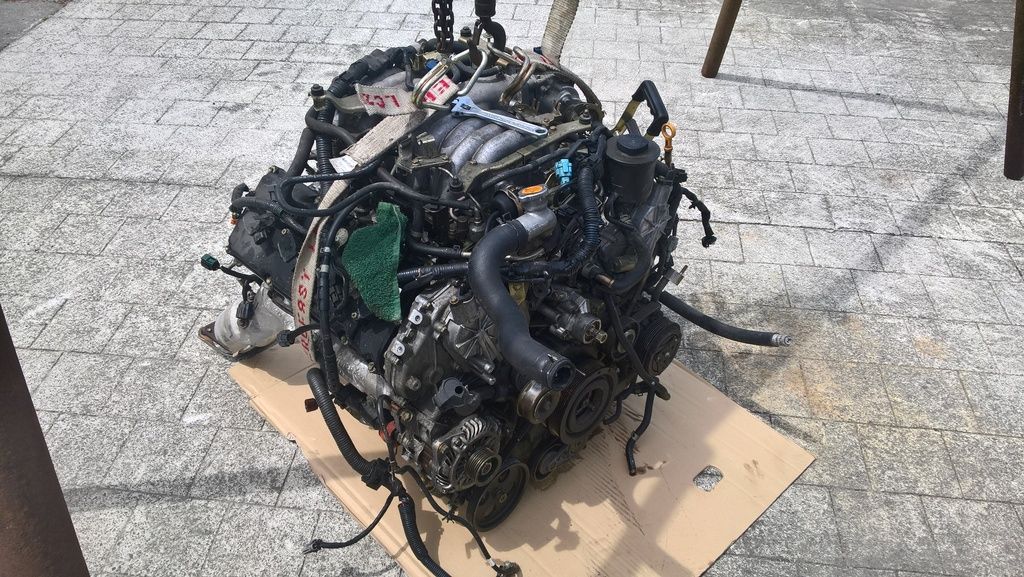 You can actually get manual trans adaptors for the VK45s that have the starter hole in the right place which is good, I'll probably end up making one as they don't look that difficult and are pretty expensive from the States (~$600US).
I got some bolts from Blacks so I could put the engine in the stand, it's mostly there. The bell housing pattern is much bigger than the RB one so even with the stand arm things extended all the way out I can only get bolts in 3 out of 4, will make probably two new ones for the lower holes that are a bit longer at work next week.
The left hand rocker cover is unfortunately cracked, I couldn't see it the other day as the heater hoses were in the way. There's quite a few broken bits and pieces on the back of the motor, nothing too serious. It must have been shoved back into the firewall I think. Good thing about these motors is there are quite a few around here and there are heaps in the States and bits aren't too expensive, I can buy brand new rocker covers for it and basically everything else that's broken too.
I took the hydraulic fan pump off as well as it was damaged and I'm not going to use it, a standard water pump bolts straight in to where it was. I think I'll make some pulleys for it now that I have access to the technology.
A quick Google would lead me to believe this is approximately 70Kgs lighter than an RB25DET.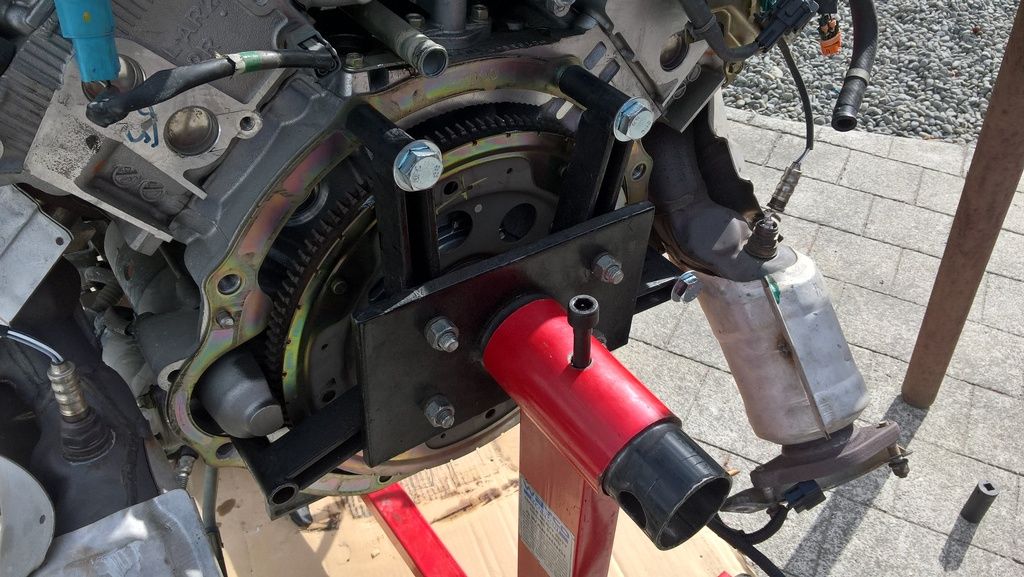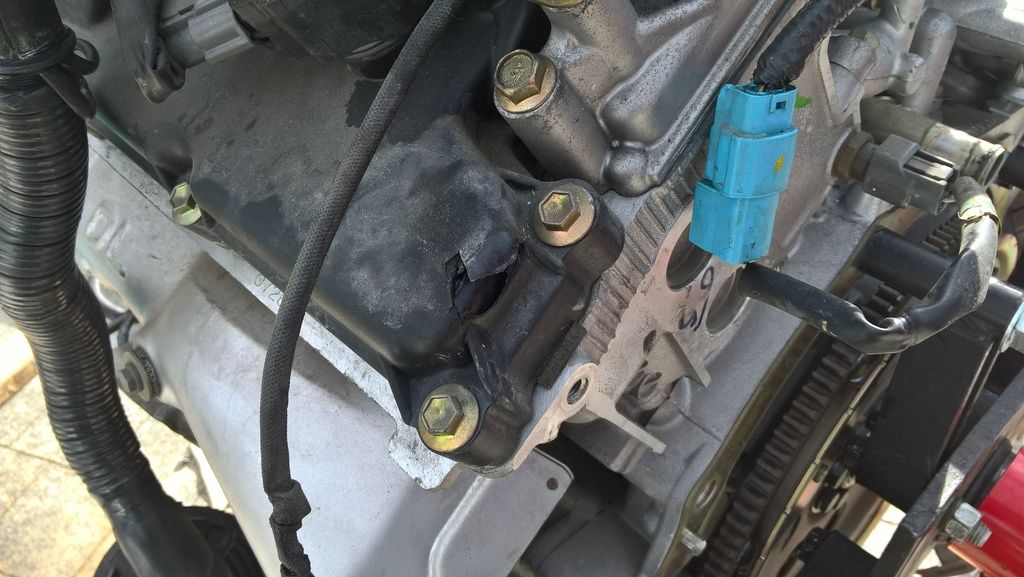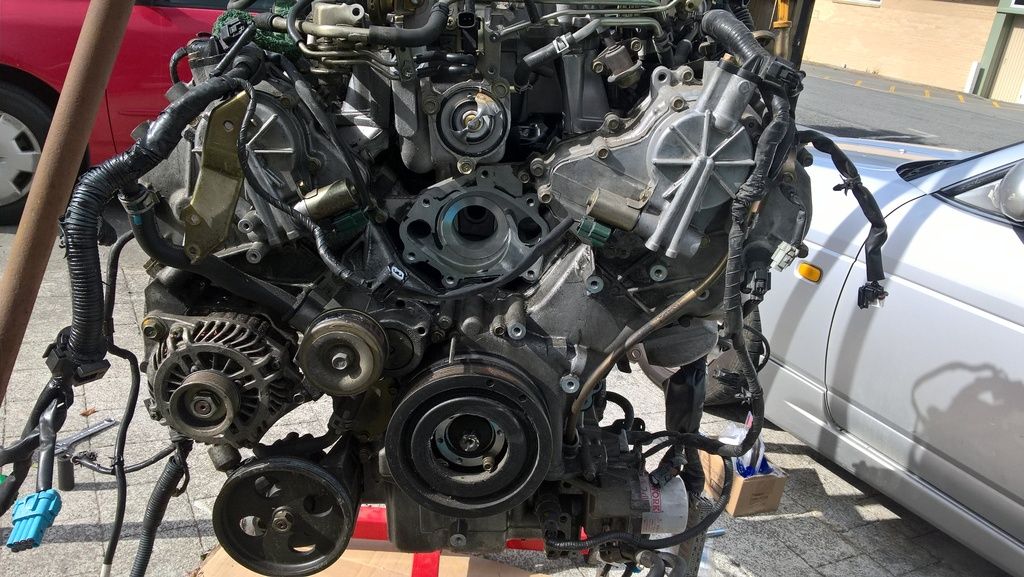 Will need to pull the sump off and see how the whole oil filter arrangement works, you can see in the bottom picture above the oil filter sticking out the side which is actually part of the sump.
I think to get the motor low enough to not have to modify the bonnet (which I don't want to do) I'm going to have to make another sump and the stock one is front bowl which I don't think will work as it'll be pretty much where the crossmember is.
The plan for this car at the moment (as my plans always change) is:
VK45 with ITBs
350/370Z 6 speed
Front and rear suspension bits from the parts C35 Laurel I have including the whole rear subframe
Electric power steering (this is a maybe)
Wide ZG flares (as the C35 subframe will be quite a bit wider than standard I think)
Wide wheels
I've seen a 1UZ done with 4 RB26 throttle bodies and it looked like it worked pretty well and should be a good way to keep the motor nice and short.
This is the 1UZ:
Pulled the inlet manifold off so I could have a look, the inlet ports are pretty massive. I sat an RB26 throttle body flange on top of two of them and the spacing is a little bit off but I think it's workable.